Tritex NDT Ultrasonic Thickness Gauges
Tritex NDT manufacture multiple echo ultrasonic thickness gauges designed to monitor corrosion levels and check metal thickness without removing coatings
Tritex Multiple Echo ultrasonic thickness gauges significantly reduces preparation time as they eliminate the need to remove surface coatings.
---
Performance
Performance is the most important feature of our thickness gauges. Whether it's coated, bare metal, heavily corroded or clean, the Tritex Multigauge range has proven to be reliable, simple, accurate and robust. We supply ultrasonic thickness gauges worldwide for use in all applications where metal thickness is a concern.
Simple Thickness Meter
Accurate Thickness Meter
Robust Thickness Meter
About Tritex NDT
Tritex NDT has grown to be one of the leading manufacturers of ultrasonic thickness gauges worldwide. Our experienced technicians pioneered multiple echo into hand-held ultrasonic thickness gauges in the 1980's. We understand the problems faced by customers in all applications in the field of NDT and we aim to provide the best possible solutions. Our knowledge has been applied to the design, manufacture and marketing of our gauges.
Our use of the Multiple Echo method ensures that protective coatings remain undamaged, therefore eliminating the need for costly replacement.
Tritex NDT is committed to ensuring that all customers are provided with the highest level of products and services from first contact and throughout the active life of the product. We are acutely aware of the value of after sales care. All products are designed and manufactured in the the United Kingdom.
Tritex NDT Ltd is an ISO9001:2015 certified company.

Customer Testimonials
Solent Refit - United Kingdom
"Your gauge is so fool proof to use, all of our people can do their own gauging"
SeaTech Commercial Diving Services Ltd - United Kingdom
" We have a lot of experience using underwater thickness gauges but my team insist on using only the Tritex gauges now. The Multigauge 3000 gives stable measurements and locks onto readings instantaneously"
Valkyrie Diving - United Kingdom
"The Multigauge 3000 is absolutely brilliant, we love it! If there was any problem we would tell you. Also, the service is excellent!"
Elliot Berry Marine Services - United Kingdom
"Just to let you know I'm very impressed with the gauge and the after sales service is excellent"
Broomfield Marine Services - United Kingdom
"The company is one of the most honest and reliable suppliers I have dealt with…"
Sonometric - South Africa
"Tritex gauges are the best thickness gauges I have used..."
Frankham Consultancy Group Ltd - United Kingdom
"We purchased the Multigauge 5600 which we found to be excellent as was the service from TritexNDT"
Captain Joseph Zerafa - Malta
"Excellent service throughout"
Plant Relaibility Solutions - United Kingdom
"I purchased a Multigauge 5750 which is very easy to use. Tritex were very helpful in assisting us with selecting the right unit for the application. Very good service."
London Underground - United Kingdom
"The feedback from our inspectors is positive - easy to use and accurate."
Farrell Ltd - United Kingdom
"The ultrasonic unit purchased achieves results other equipment cannot provide. The front end support was excellent and the unit proves to be a good investment."
Maziak Compressor Services Ltd - United Kingdom
Maziak Compressor Services prides itself on the services we offer our customers, and this is only as good as our people and the products we use. The Tritex Meter our 3 PSSR inspectors now use, ensure we can be the best.
"I just want to send you this pictures and video of our project finally working on a mining truck........ your sensor works great."
Aerodyne Group - Malaysia
"We are writing this as a testament to the quality of performance for the Multigauge 6000 Drone Thickness Gauge. Our technical team has given it high praise due its high accuracy and durability. It has impacted our field work positively."
ACTT - Sulphur, Louisiana
"We received the Multigauge 6000 and it's an amazing piece of equipment, thanks for all your help."
News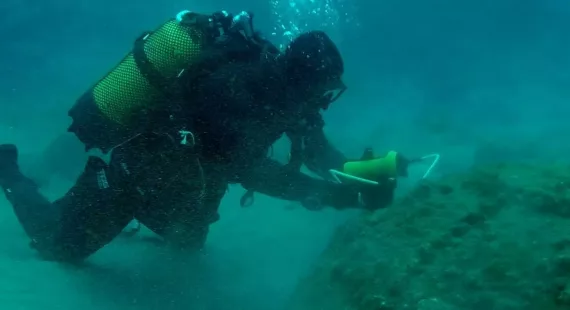 The Tritex NDT Multigauge 3000 Diver Underwater Thickness Meter is a popular choice amongst divers. The gauge uses Multiple Echo […]
Read More

›
Tritex NDT have for many years been manufacturing ultrasonic thickness gauges and are now established as one of the leading […]
Read More

›